Event Management Company | Best Event Planners in Dhaka
Event Time Ltd is one of the trusted event management company in Bangladesh. 
Event Time Ltd is at your side to make your important formal day more beautiful and memorable. 
Official programs, weddings, bridal showers, anniversary functions, birthdays, sports programs, celebrations, company product launch programs, parties also successfully complete any type of event, 
Event Time Limited.
Best Event Management Company in Bangladesh
The best event management company in Dhaka, Bangladesh, is Event Time BD. In managing corporate events, conferences, seminars, exhibitions, brand activation events, BTL and ATL activities, and product launching events in Bangladesh, we have 15 years of experience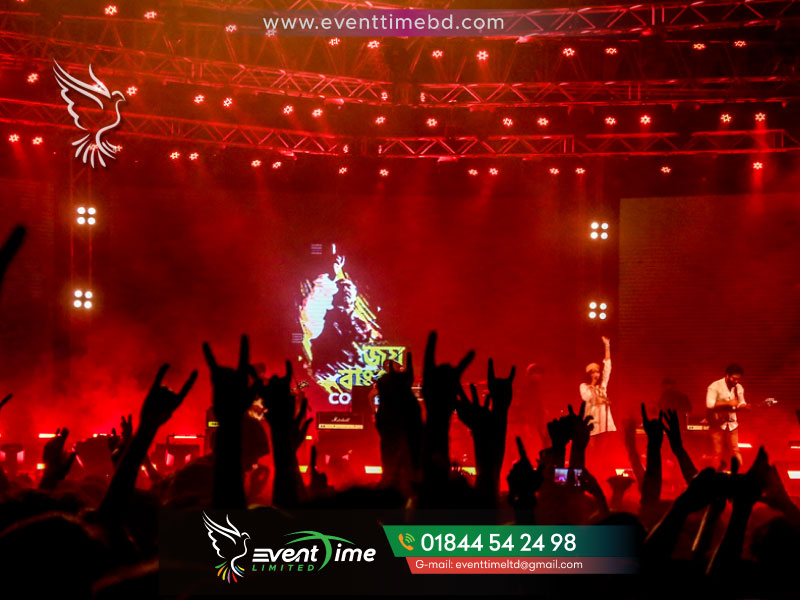 Dhaka University Graduation Event
Council of Bangladesh Fashion Show
Why choose our event Time Ltd?
Event Planners in Dhaka, Bangladesh | Best Event Management Company
One of the best event management companies in Dhaka, Bangladesh is Event Time BD & Entertainment. They are the top event planners in the city. Event Time BD is an expert in beautiful and seamless event organizing. Our staff has expertise and knowledge in organizing conferences, brand activation events, exhibitions, product launches, and the construction of exhibition stands in Bangladesh. We handle corporate events, seminars, conferences, concerts, fashion shows, celebrity management, and digital influencer management as a professional event planning service provider. Event Time BD is a corporate event management firm that also organizes conferences, trade shows, and sports events. Themeing, coordination, decoration, styling, wedding planning, entertainment, and venue sourcing are all part of the event planning services we provide at Event Management Agency Services.
Event Management:
Event management is the process of planning and organizing public or private events. such conventions, conferences, festivals, weddings, formal parties, band launches, BTL activities, or corporate events. Before the event begins, it requires that you investigate the band and determine your target market, come up with an event concept, and organize the technical details.
As a qualified event manager, we assist our clients in organizing and carrying out events of any size. We are in charge of the logistical, technical, and artistic aspects. This covers everything from general event planning to script writing, logistics, budgeting, negotiating, audio-visual production, marketing and communication strategy, brand development, and customer service.
Event Management for Business:
Corporate team building, corporate award ceremonies, corporate holiday celebrations, corporate seminars and educational events, and corporate charitable activities are all included in corporate event management. We manage and organize conferences, seminars, team-building activities, press conferences, business and corporate dinners, shareholder and corporate board meetings, year-end celebrations, trade shows and expos, corporate golf outings, outbound and inbound educational and corporate tours, product launches, and executive retreats as a corporate event management company in Bangladesh. We also offer all the necessary logistics for a corporate event, such as designing and printing banners and glow signs, renting hoardings, renting AV equipment, renting LED screens, providing video and photography services, providing live streaming equipment, renting sound systems, designing stages and sets, and providing event interior services. Promotions, Road Shows, Canter Activates, Dealer, Customer / Dealer Interaction Programs, Trade are all things we are highly proficient at.