Planning a wedding can be both exciting and overwhelming. Every couple dreams of a perfect wedding day that reflects their love story and leaves lasting memories for a lifetime. In Bangladesh, the demand for professional wedding event management services has been on the rise. Couples now seek expert assistance to ensure a seamless and unforgettable wedding experience. One of the leading names in the industry is Event Time BD, a premier wedding event management company that takes pride in turning dreams into reality. Wedding event planners are seasoned professionals who assist couples in planning, organizing, and executing their wedding day. They act as coordinators, advisors, and creative minds to craft a personalized experience for the bride and groom.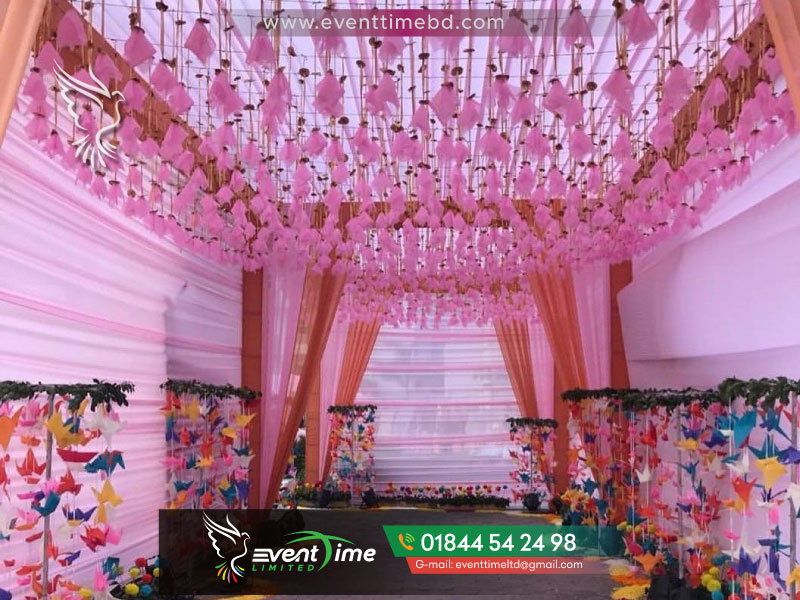 Wedding event management services come with a plethora of benefits. From reducing stress to saving time and money, couples can enjoy a smooth journey towards their big day, knowing every detail is taken care of by experts. Event Time BD is a reputable wedding event management company based in Bangladesh. With years of experience and a passionate team, we have successfully curated some of the most extraordinary weddings in the country. At Event Time BD, we believe that each wedding is unique and deserves special attention. Our approach involves personalized consultations with couples to understand their vision, style, and preferences. We then weave these elements into a seamless and enchanting wedding experience.
Services Offered
3.1 Wedding Planning and Coordination
Our comprehensive wedding planning and coordination services cover everything from venue selection to vendor management and budgeting, ensuring a stress-free planning process for the couple.
3.2 Creative Design and Décor
Our creative team excels in crafting captivating wedding themes, decorations, and setups that create a mesmerizing ambiance on the big day.
3.3 Vendor Management
We have built strong relationships with reputable vendors in the industry, ensuring couples receive top-notch services for photography, catering, entertainment, and more.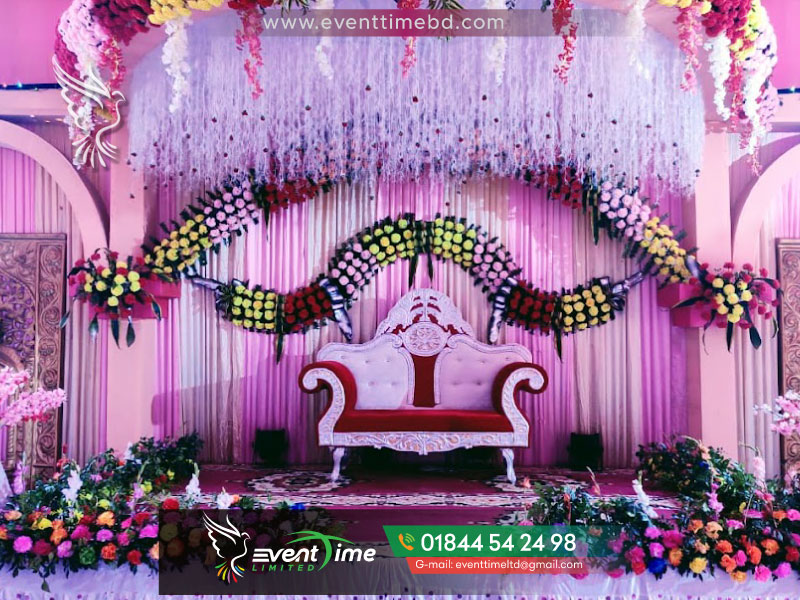 3.4 Guest Management
Our services extend to guest management, ensuring every attendee a warm welcome and smooth experience.
Realizing Dream Weddings: Our Success Stories
4.1 A Whimsical Garden Wedding
We transformed a picturesque garden into a fairy-tale setting, where the couple exchanged vows under a canopy of flowers.
4.2 A Cultural Extravaganza
Incorporating the couple's cultural heritage, we orchestrated a vibrant and joyous celebration that left everyone in awe.
Client Testimonials
5.1 "Event Time BD made our wedding journey magical. The attention to detail and creativity were beyond our expectations." – Sarah & Aryan
5.2 "Thank you, Event Time BD, for making our wedding day truly unforgettable. Your team's dedication was remarkable." – Emily & Rohan
Conclusion
Your wedding day is a momentous occasion, and it deserves nothing but perfection. Event Time BD is committed to making your dreams come true by offering exceptional wedding event management services. With our expertise and your vision, together, we can create a wedding that will be cherished forever.
Best Wedding event management in Bangladesh Dhaka
FAQs
Do you provide destination wedding planning services?
Yes, Event Time BD offers destination wedding planning services. Whether you dream of a beach wedding or a romantic castle ceremony, we can make it happen.
How early should we book your services?
It's best to book our services at least 6 to 12 months before your wedding date to ensure availability and ample time for planning.
Can we customize our wedding package?
Absolutely! We understand that every couple's needs are unique, and we are more than happy to tailor our services to match your requirements.
What sets Event Time BD apart from other wedding planners?
Our dedication to creating personalized and enchanting wedding experiences sets us apart. We go above and beyond to ensure your day is exceptional.
Do you offer on-the-day coordination services?
Yes, we provide on-the-day coordination services to ensure that everything runs smoothly on your wedding day, allowing you to focus on making memories.